Pigeon infestations like this one in the pictures is causing quite the problem for a condo complex in Las Vegas, NV.
The A/C units have been screened to prevent pigeons from nesting underneath, and now the pigeons are finding other nesting areas out in the open. Pigeons prefer shade and covering over their head, therefore they are nesting on the roof under the overhang and in the small shaded areas next to the A/C units. 
The HOA for the condo complex has called upon us to poison the pigeons using Avitrol, a legal method of pigeon control administered by a licensed pest control company. 
More visible damage caused by these pigeons is their poop piling up on the ground and the purple streaks on the windows. 
Unfortunately, the pigeon infestation is so extreme at these condos that the
damage the pigeons are causing is costing the homeowners thousands of dollars in repairs to the A/C units, air duct cleaning, new paint on the exterior of the buildings, and other roof repairs.
Let Agent Pest Control take care of your pigeon pest control problems. Contact
us today, before you end up paying thousands in repairs. Contact Us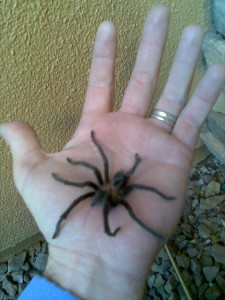 This spider (Tarantula) was spotted in a customer's yard. Even        though I may be in the pest control industry a big spider like this  one is still a little scary!
The tarantula was dead so I picked it up. It was very soft to the touch, however; I do not recommend picking  up spiders without knowing what type of spider it is.
Here in Henderson, where this tarantula was found, there are 2 poisonous  spiders you should stay away from: the Desert Recluse and Black Widow spiders. These spiders are quite poisonous and can hurt you.
Please call us if you have a spider infestation or  any pest problem  you need a professional exterminator to handle. Or, you can  contact us using our contact form.