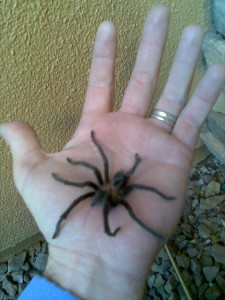 This spider (Tarantula) was spotted in a customer's yard. Even        though I may be in the pest control industry a big spider like this  one is still a little scary!
The tarantula was dead so I picked it up. It was very soft to the touch, however; I do not recommend picking  up spiders without knowing what type of spider it is.
Here in Henderson, where this tarantula was found, there are 2 poisonous  spiders you should stay away from: the Desert Recluse and Black Widow spiders. These spiders are quite poisonous and can hurt you.
Please call us if you have a spider infestation or  any pest problem  you need a professional exterminator to handle. Or, you can  contact us using our contact form.